How To Get There
---

FERRY TIMETABLES
---
Kefalonia Lines Ferry - Ithaca | Sami | Patras
Ionian Pelagos FERRY - Astakos | Kefalonia | Ithaca
Ticket Booking: Kefalonia: +30 26740-22111, Ithaki: +30 26740-32104, Astakos: +30 26460-38020
KTEL Bus Astakos Aetolia-Acarnania  Tel: +30 2610 421 205

Meganissi FERRY - Nidri (Lefkas) to Frikes (Ithaca)

Αzimut Joy Cruises Hydrofoil FERRY (STARTING MAY 2018) - Corfu | Paxos | Ithaca | Kefalonia | Zakynthos

Sea Taxi "ODYSSEAS" Service to the Ionian islands
Ithaca Transfers - Kavallieratos. Sea Taxi Service from Kefalonia to Ithaca

Greek Tourist Guide Ferry Booking Form
Helpful Telephone Numbers when you are traveling
---
KTEL Buses (Kiffisou Bus Terminal, Athens)
Tel: +30 210 515 0785 | 210 512 9448 | 210 512 4910 | 210 512 4911 | 210 513 2601
You can book a seat on the bus a few days prior to departure date. Ktel buses from Kifisou Bus Terminal, Athens, leave regularly for all destinations in Greece. The bus service is very efficient, although seeminly a little chaotic. For Ithacan ferry connections, you will need to take a bus to either Kyllini or Astakos.
KTEL Buses (Patras)
Tel: +30 2610 274 938 | 2610 277 854
In case of last minute timetable changes due to weather or mechanical breakdowns, ring the port authority for up to date information.

Astakos Port Authority: +30 26460 41052
Patras Port Authority: +30 2610 341002
Kyllini Port Authority: +30 26230 92211

For Ferry Booking and Information call:

Cephalonia: +30 26740 23405

Ithaca: + 30 26740 32104

Astakos: +30 26460 38020

Lefkada: +30 26450 22322
Driving From Athens
---
Athens to Kyllini 3 hrs 25 mins - 287km
If you have some time to spare try taking a more scenic route via Nafplion - Olympia - Kyllini.



Athens to Astakos 3 hrs 52 mins - 299km
If you have some time to look around, try an alternate route which takes you through Delfi and Araxova before heading to Astakos.

Flying from Athens
---
If bus and ferry travel hours put you off you still have one more alternative. There are flights from Athens to Argostoli in Cephalonia several times per week and in summer, daily. Planes land at Argostoli airport. From there you'll need to catch a taxi, bus or hire a car to Sami from where you catch the ferry, Ionian Pelagos to Ithaca
Flight - 40 min approx
Driving Argostoli to Sami port - 45 minsr
Ferry - 30 mins to Piso Aetos | 1 hr to Vathy Ithaca.
Carriers who serve Athens/Kefalonia route are:
Aegean Air
Olympicair
Easy Jet
Ryanair
During the summer months, there are also many tour group charters flying into Kefalonia. It's always worth checking if there are some spare seats on these flights. You may get a bargain.
Unfortunately the flight times and ferry times do not always co-ordinate so be prepared for a night's stay in Kefalonia or alternately, you can catch a sea taxi across to Ithaca at any time.
Other Travel Options
---
There are also Ferries from Italy which have routes to Patras and Igoumentisa. There are good choices of ferries and they leave Italy from Ancona, Brindisi and Venice.
From Patras you will need to drive, taxi or take a bus to Astakos (below)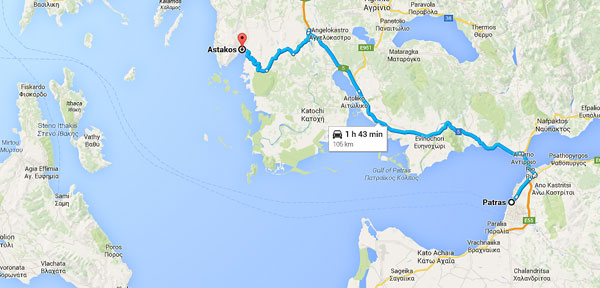 or Kyllini (below)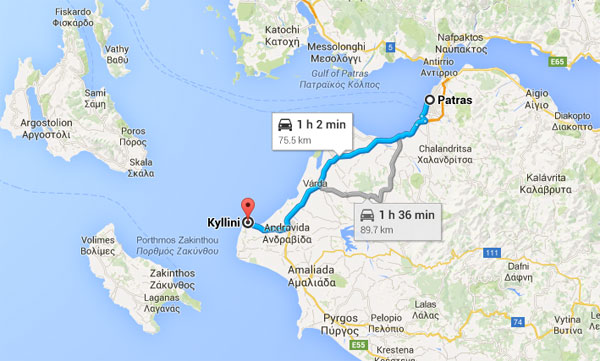 ports for your ferry connections to Ithaca.
From Igoumentisa you can drive, taxi or take a bus to Lefkada (Lefkas) from where you can make your ferry connection to Ithaca. (Remember this route is weather and season dependent. The Captain Aristides or Meganissi ferries does NOT run all year around.)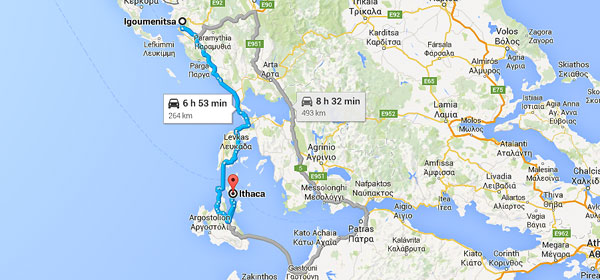 You can also fly into Preveza (Araxos airport) take the tunnel to Lefkada and then ferry to Ithaca.

Leider gibt es dieses Jahr keine Direktflüge von Deutschland auf die Nachbarinsel Kefalonia. Ithaka ist trotzdem eine Reise wert. Brauchen Sie Hilfe bei der Reiseplanung können Sie mich gerne kontaktieren. martinaquandt@icloud.com
Getting to Ithaca may not be the easiest thing to do, but we believe you'll think the effort worth it!